So … I want pancakes, but I'm home alone and I'm lazy so prepare thine asses for the pancake book tag!
Please check out the original tag and the creator because Becky is awesome!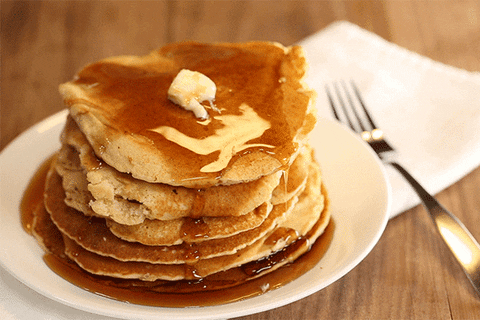 THE RULES
As with any tag, I've created a couple of basic rules:
Link back to the original creator in your post (that's me!)
Feel free to use any of my pancake graphics in your post, or create your own!
Tag 5 other people at the end of your post, and let them know you've tagged them. 🙂
🥞🥞🥞
The Forty Rules of Love by Elif Shafak
This book is delicious. Elif Shafak weaves words into your heart, and it's absolutely intoxicating.
Winnie Mehta from My So-Called Bollywood Life by Nisha Sharma
Winnie reminds me of a lemon, but I mean that in the best way possible. I love lemons personally, and I take that to mean that she is a character who lives her life with zest and spice and it's wonderful. I love her.
I love Olivia is it will never get old! She's my spirit animal.
Aru Shah and the End of Time by Roshani Chokshi
It blew me away in ways I was not expecting at all and I knew it would be hard to top. It took me at least a month to find a book half as great.
A Crown of Wishes by Roshani Chokshi
Anything with my husband, Vikramaditya, is an indulgence worth any conscience. He gives me all the feels and so does this book.
Jahangir from The Twentieth Wife by Indu Sundaresan
Jahangir is an interesting character. He's very human, he's kind of a mess, he breaks his own rules, but he's a character you feel for, or at least I do. He's very complex.
Girls Burn Brighter by Shobha Rao
This plot was absolutely wild. It went all over and never knew what to expect even in the end.
Ayesha & Khalid from Ayesha, At Last by Uzma Jalaluddin
It is a universally acknowledged truth that Darcy and Elizabeth characters will end up together, but that doesn't mean at first they were not well suited together, but like any other Austen character or retelling, Ayesha and Khaled grow to be perfect together.
Caleb Bradley from Long Shot by Kennedy Ryan
He is the scourge of hell.
Darius the Great is Not Okay by Adib Khorram
This book is everything! I love it with every fiber of my being.
🥞🥞🥞
Do you like pancakes? Tell me your ideal pancake, in the comments because I would love to know!
Petyr Baeish Books  © 2019 by Tova Portmann-Bown