Rating: 4.5 | ★★★★☆
Release Date: May 11th, 2018
English Title: Agree
Language: Hindi (with English subtitles) 
Genre: Thriller,  Spy Thriller, Spy Film, Bollywood, 
TW: Violence, & Death
Director: Meghna Gulzar
Starring: Alia Bhatt, Vicky Kaushal, Jaideep Ahlawat, Rajit Kapur, Shishir Sharma, Soni Razdan, Amruta Khanvilkar, Arif Zakaria, Ashwath Bhatt, Aman Vasishth, & Kanwaljit Singh   
Synopsis: Sehmat Khan is a Kashmiri College student who takes her father's place as a spy for India in Pakistan during the precursor to the  Indo-Pakistan War of 1971. She ends up marrying the son of Pakistani General, and things become very complicated as she attempts to scrounge information, and not be found out. And nothing will stop Sehmat from being loyal to her country, not even love.
❝Nothing comes before my country … not even me myself.❞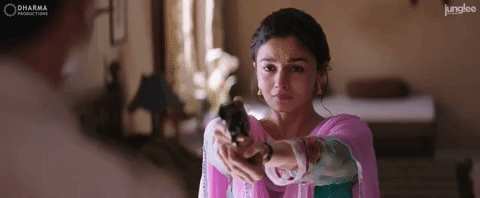 So … I watched Raazi the other day, and it was an experience. I was sure to have a comfy blanket, tea (in my favourite Shakespearean Insult mug) and tissues by my side, and I managed to watch it without sobbing more or less.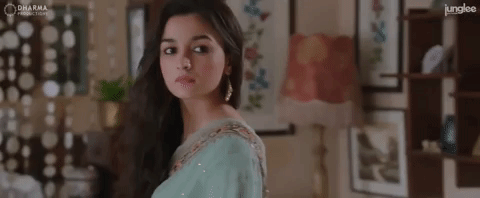 This film could have become a commodity of controversy very easily, considering it doesn't seem to take much for people to react. The majority of the characters are Pakistani. None of the actors, at least the main ones, are Pakistani. It's about an Indian spy infiltrating Pakistan, a person who was responsible for supposedly allowing India to prevent Pakistan from sinking one of their aircraft carrier ships, the INS Vikrant. This sounds like a recipe for Pakistan to be very angry. But it managed to walk the line and not villainize either country. Honestly, if they villainize anyone, it was more India.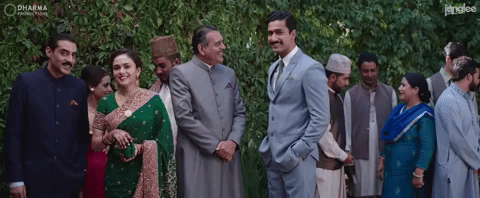 Though like I could think of some excellent Pakistani actors that could have played Iqbal *cough* Fawad Khan *cough* but that is beside the point.
Sehmat Khan 
Sehmat was a very interesting character. She's kind of innocent at the beginning but she transforms into an entirely different person. In the beginning, she almost gets run over trying to save a squirrel from the same fate, and then by the end of the story she's killed two men and watched the man she loved and who she hurt get blown up as well as a woman who was pretending to be her by her employers. The two versions are not compatible.
As much as her actions are often controlled by men, Sehmat is a feminist in her own right. She makes her decision in the end, and she not going to let norms or anything dictate how she feels or even how she deals. She tells Khalid Mir, what she thinks of his actions, and that she wants out of the spy business.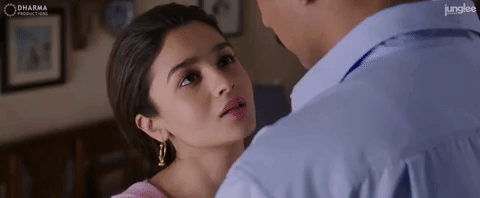 And when he discovers she's pregnant, she chooses to keep the child, all she has left of Iqbal and raise him herself rather than to abort him because that would be the "sensible" thing to do to avoid shame. She has power, and she's not going to let anyone void her of it.
I was very impressed with Alia Bhatt in this role, more so than I was with her role in Kapoor and Sons.
Iqbal Syed.
IQBAL SYED
is a precious bean, I mean literally everything.
I have nothing but respect for Iqbal. He's just the most amazing male character I've run into in a long time. This is why I haven't completely given up on the male gender.
First of all, on the first night of marriage, he doesn't force her to do anything, he gives her the bed and sleeps in another room. He doesn't try to have sex with her. Also later, when they finally connect, he's about to kiss her, but then he stops before he does and waits for her to make that choice.
And she does, just seconds after he gives her the choice, and it turns into a very sweet and intimate sex scene. Seeing him actually make sure he has her consent is the most amazing thing. It brings tears to my eyes.
That completely sold my heart to Iqbal, even though it was pretty much a done deal because Vicky Kaushal is an adorable human being. I'm not going to lie, I'm crushing hard on Vicky Kaushal. He's a snack.
When he got blown up by that pipe bomb, I was furious, even though I knew he died. And it was so hard to see him cry when he finds out Sehmat is a spy, he truly loved her, and this feels like the ultimate betrayal.
❝Was anything real between us?❞
Sehmat never actually states that she loves him, but I know that she did. That sex scene proved it, as well as the way she reacts to his death and his actions in general. She cares about him deeply, and it hurts her every essence to have hurt him, but she can't tell him I love you back.
The other characters were all actually quite likable.  Hidayat Khan, Sehmat's father who shares a very close and special bond with his daughter. Their bond was so sweet. When he got that cancer diagnosis and died, it was so heartbreaking.

And then we have Mehboob (yes, that's his name) and Munira. I know Mehboob is an actual name, but I can't hear it without chuckling slightly. Mehboob is a complicated character, he never really shares any connection with Sehmat. But Sehmat has a very sweet bond with her sister-in-law, Munira. And Brigadier Syed, who is Sehmat's father-in-law. He honestly looks like the local eye doctor, which is kind of strange, but it's cool. I actually liked him. He's nice to Sehmat. He cares about her father until he finds out that he was a spy. And Khalid Mir. Who I have complicated feelings about especially with his actions in the end of the film. And Nikhil, who is a sweetheart.
But Abdul, he kind of creeped me out. From the moment he first met Sehmat he was giving her strange looks and that moment when he catches her ….
I was actually shook when she killed Abdul. She just basically ran over him. And then she has to give her brother-in-law, Mehboob (yes, that's his name) a heart attack because he was asking too many questions about Abdul's death, and that could have ruined everything. It was actually super stressful when they find the morse code stuff and everything goes to shit, and Iqbal gets his heartbroken. That also shook me.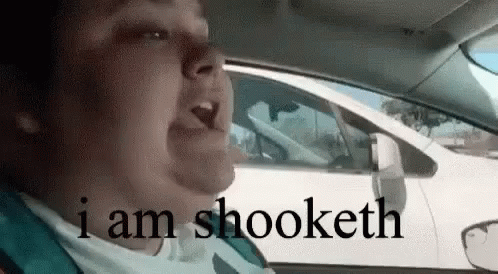 ❝I loved you, Sehmat.❞
I live for the fact that the sex scene, which is very mild, is the most cinematic scene in the entire movie, at least from my perspective. Like it's three or four shots of them, obviously not wearing clothes, kissing and snuggling with fades to black in between each shot. It's beautiful. You can watch it here.
I love the border crossing scenes. Like they drive up to the blockade, get out of the car and walk to the other side, acknowledge the officer and get into another car, it's that simple.
The soundtrack is wonderful. From Ae Watan (the Arjit Singh version) to Dilbaro which is a beautiful song about the connection between father's and daughter, to the title track, Raazi or to the female version of Ae Watan. You can find the full jukebox here.
I love how it starts with Nikhil talking to the Indian Navy in modern day about how important Sehmat was, and how you discover that the boy watching is Samar Syed, Iqbal and Sehmat's son.
❝I am India.❞
This is definitely my second favourite Bollywood movie, after Veere Di Wedding. I am definitely going to check out the book that this movie is based on, Calling Sehmat by Harinder Sikka. If you want to try out a Bollywood movie and you're in the mood for something kind of dark, check out Raazi, I promise you will not regret it.
Petyr Baeish Books  © 2018 by Tova Portmann-Bown