Rating: 3.5| ★★★☆☆
Release Date: October 28th, 2016
English Title: Oh Heart, It's Difficult
Language: Hindi (English subs??) — available free on Amazon Prime with membership
TW: Cancer
Genre: Romance, Drama, Comedy, Bollywood
Director: Karan Johar
Starring: Ranbir Kapoor, Anushka Sharma, Fawad Khan, Aishwarya Rai Bachchan, Shah Rukh Khan, Imran Abbas, Lisa Hayden, & Alia Bhatt
Synopsis: Musician Ayan's quest for true love remains unfulfilled as Alizeh does not reciprocate his feelings. In his journey, he comes across different people who make him realize the power of unrequited love. (W)
This was my first excursion into the vast "genre" that is Bollywood, and I am definitely up for more.
I watched this mainly for one very petty reason: and that is Fawad Khan.
 Who you might know as my biggest celebrity crush, who is WAY out of my league, also he's twice my age, married,  has two kids and lives in an entirely different country, but we are gonna ignore that fact. He's younger than Shahid Kapoor. A girl can dream. But also, like none of the main actors are single so I'm not alone.
But I did actually want to watch a movie with Anushka Sharma & Shah Rukh Khan in it, so that is a bonus plus depletes the pettiness of this review.
I also watched it without any English subtitles, with my friend and her mom & their dog. It was an interesting experience. I got my friend to watch it because she's obsessed with Shah Rukh Khan. Like I wish I could have watched it with subtitles, but like I knew the basic plot and I'm used to watching things that are more nuanced without subtitles and understand them just fine, so it was fine.
Characters:
Alizeh Khan (Anushka Sharma):
Alizeh is a strong-minded, funny, beautiful, charming and intelligent protagonist, who isn't afraid to be a little wild. I can totally see why Ayan loved her. She was such a beautiful character, who I could actually relate to a lot. She also has the most incredible hair.
Ayan Sanger (Ranbir Kapoor):
Ayan is a complicated character, and at his most basic essence, he just wants love. But then does not seem to understand boundaries and feelings. I liked him, I just wish he could learn to think and make better choices. He kind of got on my nerves sometime
DJ Ali (Fawad Khan):
Ali is Alizeh's ex-boyfriend/boyfriend/fiancee/husband/ ex-husband and he is a DJ. He's extremely handsome, and I loved all his scenes but I am biased. He's beautiful and deserved more screen time and character development.
Saba Taliyar Khan (Aishwarya Rai Bachchan):
Saba is an extremely gorgeous poetess who is Ayan's girlfriend/Tahir's ex-wife who he meets after leaving the disaster that was Alizeh & Ali's wedding for him. She's actually really sweet. But she also still totally likes Tahir, which is problematic and she knows that Ayan still loves Alizeh. Aishwarya is one of the most beautiful humans I have ever seen like I had no complaints.
Lisa D'Souza (Lisa Hayden):
Lisa D'Souza is Ayan's girlfriend and was easily one of the most annoying characters I've ever met/watched/read about, she was that bad. I was ranting about her the following morning still. Her voice annoyed me, her actions annoyed me, and I just didn't see her point.  You could tell that Alizeh did not like her. Also, she was the only character in the entire movie who spoke mostly English, and that wasn't clear why. Her voice annoyed me, and I would cringe at many of the things she said. I just don't see what Ayan saw in her.  Fortunately, my friend and her mom agreed with me and let me rant about her. UGH. I hated Lisa so much, and I firmly believe that Ayan has terrible taste in women at first.
Tahir Taliyar Khan (Shah Rukh Khan):
Tahir is Saba's ex-husband, who is shockingly rich, handsome and an intellectual or something who comes in for exactly 3 minutes and 26 seconds. But like Shah Rukh Khan is the kind of actor who is famous enough that even a two-second cameo would probably be enough to get his fans screaming including my friend.
Dr. Faisal Khan (Imran Abbas):
When I was looking at the cast afterward, I didn't remember who this character was, that is how useless the role was. But like I felt bad for his character during the one scene he was in, which was the double date which was probably the most awkward double date in the history of awkward double dates.
DJ (Alia Bhatt):
This was another little cameo. She's the DJ who plays The Breakup Song is one of the clubs. There are a lot of clubs in this movie..
The plot is bananas.
Ayan meets Alizeh. Instantly they have some connection, but they're both dating people.  They got on the world's most awkward double date which leads them to both break up with theit signifivant others. Ayan is really upset, so they do what any normal rich person would do post break up, go clubbing and travel the world being extremely extra. During this trip, Ayan discovered just how much he's fallen in love with Alizeh, but she friend zones him majorly. Then they end up going to this club, and the DJ just happens to be Alizeh's ex-boyfriend, Ali, and he wants to get back together with Alizeh, and she's okay with that, and Ayan gets super upset by that. Shortly after, Ayan gets a call from Alizeh about Ali and her engagement, and she invites him to their wedding in Lucknow. Despite his romantic feelings for Alizeh, he goes and tries to be happy. The wedding is going well, and Ali and Ayan spends some time with each other than doesn't end with them shoving each other but then everuthing crashes and burns when, shortly before the actual ceremony Ayan admits to Alizeh verbally about his deep love for her, and she tells him she can't love him, that she loves Ali or something, and then he gets mad at her, flips her off and leaves her to cry, at her own wedding. And then he blocks her. Then Ayan meets Saba, this Indian Poetess, who is also wealthy, and they exchange numbers. A few months later they strike up an intense relationship. And then things get complicated because not only does Ayan meet Saba's ex-husband, Tahir, who explains to him in about three minutes the power of unrequited love, and then Ayan unblocks Alizeh and starts sending Alizeh pictures of Saba and him, probably to make her jealous. Eventually, Alizeh comes to visit, and Saba realizes that Ayan really still loves her, so she breaks up with Ayan. That leads Ayan to start his singing career in order to forget about Saba and Alizeh. Then at one consort, Ali comes and finds him backstage and mentions that he and Alizeh divorced, and so Ayan tries once more to reconnect. They do eventually, but Ayan is heartbroken when he learns that Alizeh has been diagnosed with stage four cancer and is bald due to chemotherapy. But they strike up an attached friendship relationship. He shaves his head to match her, and they have a good time. Oh and she almost dies, and in the end, they get to a place where they have this kind of strange platonic romance and the movie ends.  In even simpler terms: as soon as someone falls in love with someone, they're in love or in a relationship with someone else. It's full of dramatic shit, but good dramatic shit.
Alizeh and Ayan's friendship is so pure, and wonderful though.
I just wish Ayan would just accept the fucking factual truth that Alizeh doesn't love him, and move on instead of being an asshole about it. She obviously has a type, and he doesn't fit that description. She obviously likes hot Pakistani men between the ages of 35-36, which is a description that Ayan does not fit.
Okay, I have no idea if that is true, but like both of the actors who played her other boyfriends, Imran Abbas & Fawad Khan are Pakistani. As far as I am aware, there is no telling physical feature if someone is Indian or Pakistani. I get that the Ali/Alizeh/Ayan drama makes for good tension, but someones it got a little much. But like I totally get why Anushka is into both of them, especially Ali because he's FAWAD KHAN. If this was me, it wouldn't be an issue because I would never break up with someone like Fawad Khan in the first place. But who am I to judge?
Also, how the heck does Alizeh look that good bald?  No offense to cancer patients but generally when you lose your hair, it means you're going through chemotherapy and you typically don't look super healthy or glowy. Like Anushka Sharma looks just as gorgeous bald as she does with hair.  And I realized what it was — she has full on eyebrows!
When one goes through Chemotherapy, one typically will also lose their eyebrows as well. LOOK AT HER EYEBROWS, THEY ARE PERFECTION.
I didn't understand why Ayan would go meet Saba's rich, handsome ex-husband, after what happened with Alizeh and Ali. Like, hasn't he learned anything?
WHY DO THEY RANDOMLY SPEAK IN ENGLISH? 
And can we talk about the wedding scene? That scene was like so sweet until Ayan had to be an idiot and ruin the whole thing.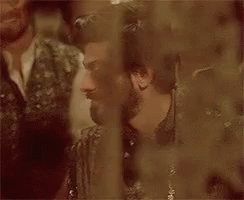 But Ayan had to go a ruin everything.
Alizeh did nothing to deserve this. It's not her fault that you waited until the middle of her wedding to tell her that you love her. That's entirely your own damn fault, so don't blame her, you bastard.
Also, this movie needed more Fawad Khan. Like he had a bigger role than it sounded like, but I could have used more.
But in the end, it was sweet to see Alizeh and Ayan "together." They need each other.-
And this movie has memes!
I showed this to my friend and we both cracked up so hard.
Overall it was an enjoyable movie, but there were a lot of frustrating aspects. Though, it really felt at times as if it was a movie about rich people and their inability to accept and deal with relationship issues.
Have you watched ADHM? If so I'd love to hear your thoughts, even if you didn't I'd love to hear your thoughts in the comments. 
Petyr Baeish Books  © 2018 by Tova Portmann-Bown