July was one busy month, yet I managed to read 17 books (and I completely my Goodreads Reading Challenge). I attend two really great writing conferences, counseled an outdoors camp, made lots of new friends, shed some tears, and eat a lot of food. Overall, not a bad month. But I'm sad that I have only one more month of summer, and then on into junior year. I just need to breathe and remind myself that I can and I will survive this.
Enough of a life update, I know all y'all here for dem books. So here are dem books.
1.
You Are Here by Jenny Lawson
Rating: ★★★★ | 4.5 stars
A new book from #1 New York Times bestselling author Jenny Lawson, destined to be a classic—part therapy, part best friend, part humor, part coloring book.
When Jenny Lawson is anxious, one of the things she does is to draw. Elaborate doodles, beautiful illustrations, often with captions that she posts online. At her signings, fans show up with printouts of these drawings for Jenny to autograph. And inevitably they ask her when will she publish a whole book of them. That moment has arrived.
You Are Here is something only Jenny could create. A combination of inspiration, therapy, coloring, humor, and advice, this book is filled with Jenny's amazingly intricate illustrations, all on perforated pages that can be easily torn out, hung up, and shared. Drawing on the tenets of art therapy—which you can do while hiding in the pillow fort under your bed—You Are Here is ready to be made entirely your own.
Some of the material is dark, some are light; some is silly and profane and irreverent. Gathered together, this is life, happening right now, all around, in its messy glory, as only Jenny Lawson could show us.
– Goodreads 2017
As I said in my January Wrap – Up, (or possibly in my review) Jenny Lawson is a unicorn among humans. This book was fantabulous. I mean who else can get away with dedicating a book to their crippling anxiety – only Jenny. You will be turning this book in circles, and I mean this quite literally.
"Weird on, you bad ass motherfucker."
Thank you, Jenny, for saving my life with this quote.
Read my review here!
2.
Level Up by Gene Luen Yang
Rating: ★★★ | 3 stars
Dennis Ouyang has always struggled in the shadow of his parents' expectations. His path is laid out for him: stay focused in high school, become a Gastroenterology. It may be hard work, but it isn't complicated … until suddenly it is.
Between his father's death, his academic burnout, and his deep (and distracting) love of video games, Dennis is nowhere near where his family wanted him to be. In fact, he's just been kicked out of college.
And that's when things get … weird.
Four adorable—and bossy–angels, straight out of a sappy greeting card, appear and take charge of Dennis's life. And so Dennis finds himself headed back onto the straight and narrow: the path to gastroenterology. But nothing is ever what it seems when life, magic, and video games collide.
–  Goodreads 2017
This is one strange graphic novel, but it's got an interesting concept. It was a very quick read. Not quite my cup of tea, considering I have no interest in going to medical school or gaming.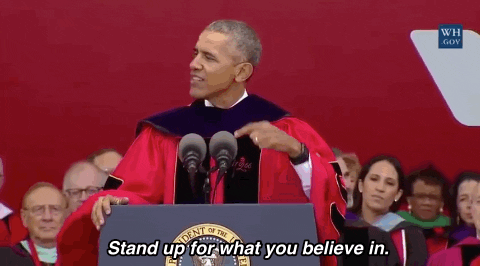 Read my review here!
3.
The Rose Society by Marie Lu
Rating: ★★★ | 3.5 stars
Once upon a time, a girl had a father, a prince, a society of friends. Then they betrayed her, and she destroyed them all.
Adelina Amouteru's heart has suffered at the hands of both family and friends, turning her down the bitter path of revenge. Now known and feared as the White Wolf, she flees Kenettra with her sister to find other Young Elites in the hopes of building her own army of allies. Her goal: to strike down the Inquisition Axis, the white-cloaked soldiers who nearly killed her.
But Adelina is no heroine. Her powers, fed only by fear and hate, have started to grow beyond her control. She does not trust her newfound Elite friends. Teren Santoro, leader of the Inquisition, wants her dead. And her former friends, Raffaele and the Dagger Society, want to stop her thirst for vengeance. Adelina struggles to cling to the good within her. But how can someone be good when her very existence depends on darkness?
Bestselling author Marie Lu delivers another heart-pounding adventure in this exhilarating sequel to The Young Elites.
– Goodreads 2017
Adelina is one morally gray (leaning towards black) badass female main character. With each progressing volume of this series, she gets darker. If you like Lada Dracul from Kiersten White's And I Darken, you would like this. It's like X-Men meets And I Darken. If Lafa lived in this world, Adelina and Lada would be besties. That would amazing, and terrifying but amazing.
I'm scared for the ending of this series. People like Lada and Adelina don't just live Happily Ever Afters.
Read my review here!
4.
American Born Chinese by Gene Luen Yang
Rating: ★★★★ | 4 stars
All Jin Wang wants is to fit in. When his family moves to a new neighborhood, he suddenly finds that he's the only Chinese American student at his school. Jocks and bullies pick on him constantly, and he has hardly any friends. Then, to make matters worse, he falls in love with an all-American girl…
Born to rule over all the monkeys in the world, the story of the Monkey King is one of the oldest and greatest Chinese fables. Adored by his subjects, master of the arts of kung-fu, he is the most powerful monkey on earth. But the Monkey King doesn't want to be a monkey. He wants to be hailed as a god…
Chin-Kee is the ultimate negative Chinese stereotype, and he's ruining his cousin Danny's life. Danny's a popular kid at school, but every year Chin-Kee comes to visit, and every year Danny has to transfer to a new school to escape the shame. This year, though, things quickly go from bad to worse…
These three apparently unrelated tales come together with an unexpected twist, in a modern fable that is hilarious, poignant and action-packed. American Born Chinese is an amazing rise, all the way up to the astonishing climax–and confirms what a growing number of readers already know: Gene Yang is a major talent.
– Goodreads 2017
This story is very peculiar. I never expected what happened, but I think it's perfect how everything wove together. If you're looking for a really truly diverse graphic novel, look no further.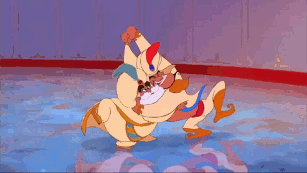 Read my review here!
5.
In Real Life by Cory Doctorow & Jen Wang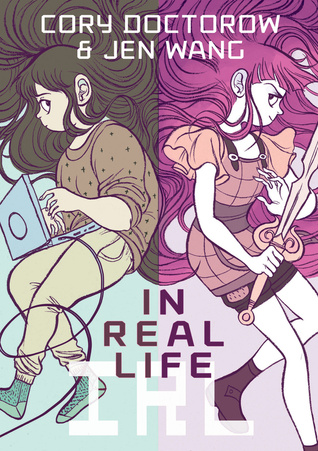 Rating: ★★★★ | 4 stars
Anda loves Coarsegold Online, the massively-multiplayer role-playing game where she spends most of her free time. It's a place where she can be a leader, a fighter, a hero. It's a place where she can meet people from all over the world, and make friends.
But things become a lot more complicated when Anda befriends a gold farmer–a poor Chinese kid whose avatar in the game illegally collects valuable objects and then sells them to players from developed countries with money to burn. This behavior is strictly against the rules in Coarsegold, but Anda soon comes to realize that questions of right and wrong are a lot less straightforward when a real person's real livelihood is at stake.
From the acclaimed teen author (Little Brother, For the Win) and Boing Boing editor Cory Doctorow and Koko Be Good creator Jen Wang, In Real Life is a perceptive and high-stakes look at adolescence, gaming, poverty, and culture clash.
– Goodreads 2017
This had some very interesting political commentary, something I've come to expect from Cory Doctorow – even though this was the first book of his I've read (My brother is a BIG FAN though.) As an RPer I related to some of the fandom aspects, which was cool. Not my favorite graphic novel but not bad. Great graphic novel for nerdy people, such as myself.
Read my review here!
6.
Mafia Girl by Judy Blumenthal
Rating: ★★★★ | 4 stars
What's in a name? Everything if you have my name." At her exclusive Manhattan high school, seventeen-year-old Gia is the most hated/loved girl in school. Why? Her father doesn't have a boss. He is the boss–the capo di tutti cappi,  boss of all bosses. Not that Gia cares. But life gets complicated when she meets a cop she calls "Officer Hottie" and feels a surprising chemistry. Then Vogue magazine wants to feature Gia in a fashion spread about real-life bad girls. On top of this, she's running for class president. Can Gia step out from under her dad's shadow and show everyone there's more to her than "Mafia Girl?
– Goodreads 2017
 Note: Il capo di tutti i capi is the correct spelling of ' The Boss of all Bosses. I believe that capo di tutti cappi translate to the bosses of nooses, which isn't probably that far off tbh.
This book was cheesy but in the best possible way.
Sometimes you just need a silly book about stupid main characters, who make you roll your eyes. But while this book wasn't very deep it still held some emotion and very addicting to read. A sort of guilty pleasure. I loved it because it felt like a Melek from Içerde origin story which I liked.
Read my review here!
7.
Delilah Dirk and The Turkish Lieutenant by Tony Cliff
Rating: ★★★★ | 4 stars
Lovable ne'er-do-well Delilah Dirk has traveled to Japan, Indonesia, France, and even the New World. Using the skills she's picked up on the way, Delilah's adventures continue as she plots to rob a rich and corrupt Sultan in Constantinople. With the aid of her flying boat and her newfound friend, Selim, she evades the Sultan's guards, leaves angry pirates in the dust, and fights her way through the countryside. For Delilah, one adventure leads to the next in this thrilling and funny installment in her exciting life.
A little bit Tintin, a little bit Indiana Jones, Delilah Dirk is a great pick for any reader looking for a smart and foolhardy heroine…and globetrotting adventures.
– Goodreads 2017
This is such a sweet MG romp that is set in one of my favorite setting on this planet the Ottoman Empire. Volume 2 is even better! I loved Delilah tenacity and Selim's sweet disposition, these two will quickly fly into your heart.
Read my review here!
8.
Nimona by Noelle Stevenson
Rating: ★★★★ | 4.5 stars
The graphic novel debut from rising star Noelle Stevenson, based on her beloved and critically acclaimed web comic, which Slate awarded its Cartoonist Studio Prize, calling it "a deadpan epic."
Nemeses! Dragons! Science! Symbolism! All these and more await in this brilliantly subversive, sharply irreverent epic from Noelle Stevenson. Featuring an exclusive epilogue not seen in the web comic, along with bonus conceptual sketches and revised pages throughout, this gorgeous full-color graphic novel is perfect for the legions of fans of the web comic and is sure to win Noelle many new ones.
Nimona is an impulsive young shape-shifter with a knack for villainy. Lord Ballister Blackheart is a villain with a vendetta. As sidekick and supervillain, Nimona and Lord Blackheart are about to wreak some serious havoc. Their mission: prove to the kingdom that Sir Ambrosius Goldenloin and his buddies at the Institution of Law Enforcement and Heroics aren't the heroes everyone thinks they are.
But as small acts of mischief escalate into a vicious battle, Lord Blackheart realizes that Nimona's powers are as murky and mysterious as her past. And her unpredictable wild side might be more dangerous than he is willing to admit.
– Goodreads 2017
Nimona is a ball of preciousness that shouldn't be tampered with, because she bites. I loved her, and that ending I will not accept. At least I have Blackheart and Goldenloin (which I would read fanfiction on honestly).
Read my review here!
9.
The Red Tent by Anita Diamant
Rating: ★★★★ | 4 stars
Her name is Dinah. In the Bible, her life is only hinted at in a brief and violent detour within the more familiar chapters of the Book of Genesis that are about her father, Jacob, and his dozen sons. Told in Dinah's voice, this novel reveals the traditions and turmoils of ancient womanhood–the world of the red tent. It begins with the story of her mothers–Leah, Rachel, Zilpah, and Bilhah–the four wives of Jacob. They love Dinah and give her gifts that sustain her through a hard-working youth, a calling to midwifery, and a new home in a foreign land. Dinah's story reaches out from a remarkable period of early history and creates an intimate connection with the past. Deeply affecting, The Red Tent combines rich storytelling with a valuable achievement in modern fiction: a new view of biblical women's society.
– Goodreads 2017
That was one interesting book. I felt all the emotions, though sometimes I just wanted to scream at certain characters:
At least the ending kind of resolved things.
While I get where her brother's were coming from, Dinah didn't seemed to preturbed about what went down with Shalem. She liked him, and damn I don't blame him. Gods of Egypt – the actor in the miniseries is really hot. He look like Sultan Mehmed from Dracula Untold, Khal Drogo and Set (Gerald Butler) from Gods of Egypt (excuse my terrible pun). Sean Teale is beautiful. Tangent aside tho.
I need to watch the miniseries now because of this article!
Read my review here!
10.
Milk & Honey by Rupi Kaur
Rating: ★★★★ | 4.5 stars
Milk and Honey is a collection of poetry and prose about survival. About the experience of violence, abuse, love, loss, and femininity.
The book is divided into four chapters, and each chapter serves a different purpose. Deals with a different pain. Heals a different heartache. Milk and Honey takes readers through a journey of the most bitter moments in life and finds sweetness in them because there is sweetness everywhere if you are just willing to look.
– Goodreads 2017
Remember that you are your own soulmate.
If that isn't empowering then you need to sit in a dark room and rethink your life.
Read my review here!
11.
Love & Sex & by Bob Hicok
Rating: ★★ | 2.5 stars
"The most potent ingredient in virtually every one of Bob Hicok's compact, well-turned poems is a laughter as old as humanity itself."—The New York Times Book Review
"Hicok's poems are like boomerangs; they jut out in wild, associative directions, yet find their way back to the root of the matter, often in sincere and heartbreaking ways."—Publishers Weekly
In Sex & Love &, Bob Hicok attempts the impossible task of confronting love and its consequences, in which "everything is allowed, minus forever." Switching gracefully between witty confessions and blunt confrontations, Hicok muses on age, distance, secret messages, and, of course, sex. Throughout, poetry is discovered to be among our most effective tools to examine the delirium of making contact.
"Hot":
The sexiest thing a woman has ever done
to or with or for me—while wearing the loose breeze
of a dress or standing inside its red zero on the floor—
while bending over and pulling her shorts down
on a racquetball court or to reach the water
shut off valve behind the fridge—as Satie
whispers against our thighs or humming
her brain's native tune as we touch
the smudged glass protecting extinct beetles
in a museum—with her lips swaddling my tongue
or finger up my ass—is tell the truth—
which makes my wife the hottest woman
I've ever known—her mouth erotic every time
she speaks—she is an animal when it comes to sex
and love—comes to us—in that she doesn't primp
in front of the mirror of what she thinks I want
her to say or be—the only real flesh—only naked
that matters––how she looks at me
Bob Hicok's poems have appeared in the New Yorker, Poetry, and the American Poetry Review. His books have been awarded the Bobbitt Prize from the Library of Congress and named a "Notable Book of the Year" by Booklist. Hicok has worked as an automotive die designer and a computer system administrator. He is currently teaching at Purdue University.
– Goodreads 2017
This book is weird, its poems about the poet and his wife and their sex life. Enough said.
Yes, it was strange.
Read my review here!
12.
Genghis Khan and the Making of the Modern World by Jack Weatherford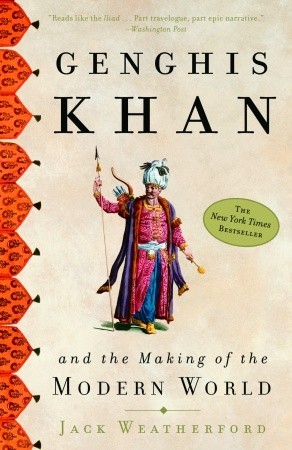 Rating: ★★★★ | 4.5 stars
Weatherford resurrects the true history of Genghis Khan, from the story of his relentless rise through Mongol tribal culture to the waging of his devastatingly successful wars and the explosion of civilization that the Mongol Empire unleashed.
– Goodreads 2017
This shows a side of Genghis Khan that you don't find in your history text books – his humanity.
Read my review here!
13.
Dumpling Days by Grace Lin
Rating: ★★★ | 3.5 stars
There was no day that dumplings couldn't make better.
Pacy is back! The beloved heroine of The Year of the Dog and The Year of the Rat has returned in a brand new story. This summer, Pacy's family is going to Taiwan for an entire month to visit family and prepare for their grandmother's 60th birthday celebration. Pacy's parents have signed her up for a Chinese painting class, and at first she's excited. This is a new way to explore her art talent! But everything about the trip is harder than she thought it would be–she looks like everyone else but can't speak the language, she has trouble following the art teacher's instructions, and it's difficult to make friends in her class. At least the dumplings are delicious…
As the month passes by, Pacy eats chicken feet (by accident!), gets blessed by a fortune teller, searches for her true identity, and grows closer to those who matter most.
– Goodreads 2017
I need dumplings, like now. Thank you Grace. At least, I'm going to China in November and I can eat lots of dumplings!
Read my review here!
14.
Written in the Stars by Aisha Saeed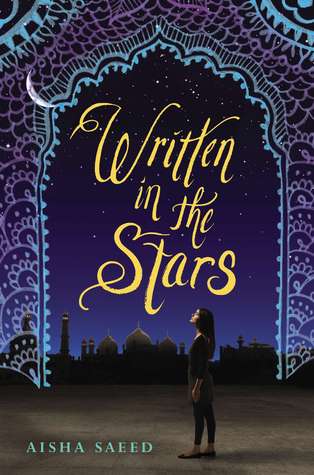 Rating: ★★★★★ | 5 stars
This heart-wrenching novel explores what it is like to be thrust into an unwanted marriage. Has Naila's fate been written in the stars? Or can she still make her own destiny?
Naila's conservative immigrant parents have always said the same thing: She may choose what to study, how to wear her hair, and what to be when she grows up—but they will choose her husband. Following their cultural tradition, they will plan an arranged marriage for her. And until then, dating—even friendship with a boy—is forbidden. When Naila breaks their rule by falling in love with Saif, her parents are livid. Convinced she has forgotten who she truly is, they travel to Pakistan to visit relatives and explore their roots. But Naila's vacation turns into a nightmare when she learns that plans have changed—her parents have found her a husband and they want her to marry him, now! Despite her greatest efforts, Naila is aghast to find herself cut off from everything and everyone she once knew. Her only hope of escape is Saif . . . if he can find her before it's too late
 – Goodreads 2017
This book broke me. I need you to read it, so we can be broken together.
Read my review here!
15.
Imaginary Vessels by Paisley Rekdal
Rating: ★★★★ | 4 stars
"Compelling, appealing, cinematic . . . Rekdal refreshes the meaning and the image of being displaced in this world." —The Boston Globe
"Rekdal's work deeply satisfies, for it witnesses and wonders over the necessary struggles of human awareness and being." —Rain Taxi
"In acknowledging the disappointing facts of our existence and singing her way into its amazement, she has created poetry that lives alongside the misery we sometimes witness—and sometimes cause." —Slate
Paisley Rekdal questions how identity and inhabiting metaphorically and personified "vessels," from blown glass and soap bubbles to skulls unearthed at the Colorado State Mental Institution. Whether writing short lyrics or a sonnet sequence celebrating Mae West, Rekdal's intellectually inquisitive and carefully researched poems delight in sound, meter, and head-on engagement. Illustrated with twelve Andrea Modica photographs.
From "You're":
Vague as fog and turnip—hipped, a creel of eels
that slithers in stains. Dirty slate, you're
Diamond Lil. She's you, you say. You're her. She's I. O
Mae, fifth grade, we dressed in feathers and our mothers' slit
pink slips, dipped into your schema and your accent,
aspiring (like you) to be able to order coffee and have it
sound like filth . . .
Paisley Rekdal is the author of four books of poetry, a book of personal essays, and a mixed media book of photography, poetry, fiction, and non-fiction. She lives in Salt Lake City and teaches at the University of Utah.
– Goodreads 2017
This poetry collection was pretty random, unlike the other ones it wasn't themed, but I liked most of the poems.
Read my review here!
16.
Defy the Stars by Claudia Gray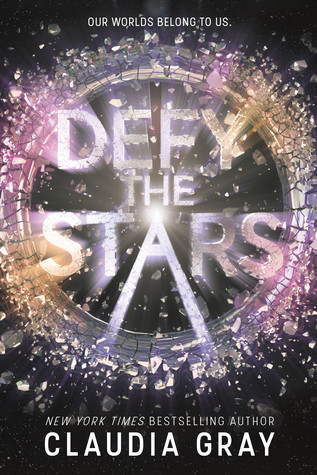 Rating: ★★★★ | 4.5 stars
She's a soldier.
Noemi Vidal is seventeen years old and sworn to protect her planet, Genesis. She's willing to risk anything—including her own life. To their enemies on Earth, she's a rebel.
He's a machine.
Abandoned in space for years, utterly alone, Abel has advanced programming that's begun to evolve. He wants only to protect his creator, and to be free. To the people of Genesis, he's an abomination.
Noemi and Abel are enemies in an interstellar war, forced by chance to work together as they embark on a daring journey through the stars. Their efforts would end the fighting for good, but they're not without sacrifice. The stakes are even higher than either of them first realized, and the more time they spend together, the more they're forced to question everything they'd been taught was true.
– Goodreads 2017
I didn't know that I could like Sci-fi (though I just realized that THG is Science Fiction and that was Middle School Tova's shit). This was a really sweet blend of science, fiction, friendship, romance and great odds that transported me away from my life into the lives of my precious Abel and Noemi. I'm super excited for the sequel!
Read my review here!
17.
Fire Color One by Jenny Valentine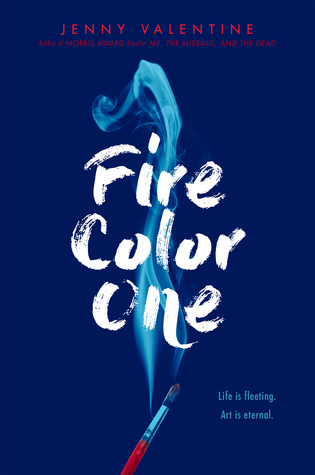 Rating: ★★★ | 3.5 stars
A father and daughter reconnect after a life spent apart to find their mutual love of art isn't the only thing they share.
Sixteen-year-old Iris itches constantly for the strike of a match. But when she's caught setting one too many fires, she's whisked away to London before she can get arrested—at least that's the story her mother tells. Mounting debt actually drove them out of LA, and it's greed that brings them to a home Iris doesn't recognize, where her millionaire father—a man she's never met—lives. Though not for much longer.
Iris's father is dying, and her mother is determined to claim his life's fortune, including his priceless art collection. Forced to live with him as part of an exploitive scheme, Iris soon realizes her father is far different than the man she's been schooled to hate, and everything she thought she knew—about her father and herself—is suddenly unclear. There may be hidden beauty in Iris's uncertain past, and future, if only she can see beyond the flames.
– Goodreads 2017
If you've ever lost someone you really cared about, no matter how much or little you knew them, I think you could relate to this. I loved how everything wove together, when everything didn't seem to belong together – art, family, arson, death – you know all the greatest things this world has to offer.
Read my review here!
*August TBR* 
Silent House by Orhan Pamuk
The Midnight Star by Marie Lu
The Idiot by Elif Batuman
The Man Who Dammed The Yangtze by Alex Kuo
My Name is Red by Orhan Pamuk
Wandering Bird by Elif Shafak (from Reader, I Married Him)
White Fur by Jardine Libaire
Less by Andrew Sean Greer
The Female of the Species by Mindy McGinnis
The Gift poems by Hafiz – Translated by Daniel Ladinsky
Chicago by Alaa Al Aswany
House of Names by Colm Toibin
Haroun and the sea stories by Salman Rushdie
Saladin; The Sultan Who Vanquished  The Crusaders And Built An Islamic Empire by John Man
In a Perfect World by Trish Doller
Denton Little's Still Not Dead by Lance Rubin
Caravan of Dreams by Idries Shah
The Princess Saves Herself in this one by Amanda Lovelace
Since you made it to the end here is a poem – that I wrote recently enjoy
A Crane Like Bird
snow white edged with inky black silk
long thin legs, lifting, extending, lifting extending
stretching, extending, beyond  peripheral vision
spring green grass growing from the swamp,
ardea alba, chen caerulescens, cygnus columbianus, grus americana
stepping forward, a sharp impact, a loud screech of pain
running, lifting, rising, the air is a panic of wings.
daylight sprinkled with stars of white snow and black silk
necks outstretched, majestically, unlike the peacock
they flutter away like leaves upon the wind
out of sight, out of mind, not quite
unlike the blue heron, or any other crane like bird
Petyr Baeish Books  © 2017 by Tova Portmann – Bown