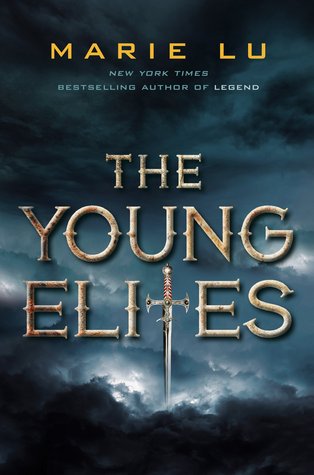 Rating: ★★★ | 3.5 stars
Release Date: October 7th, 2014
Series: (The Young Elites  #1)
Genre:  Fantasy, Young Adult, Fiction, Romance, Dystopian, Science Fiction
Page Count: 355 pages
Dates Read: June 14 – 18th, 2017
I am tired of being used, hurt, and cast aside.
Adelina Amouteru is a survivor of the blood fever. A decade ago, the deadly illness swept through her nation. Most of the infected perished, while many of the children who survived were left with strange markings. Adelina's black hair turned silver, her lashes went pale, and now she has only a jagged scar where her left eye once was. Her cruel father believes she is a malfetto, an abomination, ruining their family's good name and standing in the way of their fortune. But some of the fever's survivors are rumored to possess more than just scars—they are believed to have mysterious and powerful gifts, and though their identities remain secret, they have come to be called the Young Elites.
Teren Santoro works for the king. As Leader of the Inquisition Axis, it is his job to seek out the Young Elites, to destroy them before they destroy the nation. He believes the Young Elites to be dangerous and vengeful, but it's Teren who may possess the darkest secret of all.
Enzo Valenciano is a member of the Dagger Society. This secret sect of Young Elites seeks out others like them before the Inquisition Axis can. But when the Daggers find Adelina, they discover someone with powers like they've never seen.
Adelina wants to believe Enzo is on her side, and that Teren is the true enemy. But the lives of these three will collide in unexpected ways, as each fights a very different and personal battle. But of one thing they are all certain: Adelina has abilities that shouldn't belong in this world. A vengeful blackness in her heart. And a desire to destroy all who dare to cross her.
It is my turn to use. My turn to hurt.
– Goodreads 2017
This book was recommended to me by my dear friend Maya.
Adelina is not a good girl at all – she's not even really an anti-hero: she bad and she isn't apologizing for anything. I feel as if Lada Dracul (from AID) and Adelina would be a friendship made in heaven.
This book is dark, gritty but it shines like a star on the character development plane.
[SPOILERS – PROCEED WITH CAUTION]
"No nobleman in his right mind would make a wife of such a marked girl – she could not possibly attend public affairs on my arm. I have a reputation to uphold Master Amouteru ….. but I have one request, I will have her now. I will not wait until next year when she is seventeen."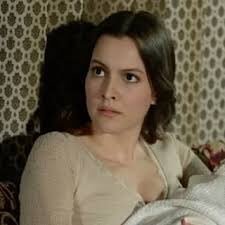 What a hypocrite. He has a reputation to uphold yet he is still taking (illegally mind you even if he has her father's consent) an underaged malfetto girl to be his mistress. Breaking the law isn't gonna do shit to his reputation now, is it?
The characters:
Adelina Amouteru (or 'The White Wolf)'. I'm shook that she killed her own father within 20 or so pages, but I was impressed. And she doesn't lighten up at all. She's one dark badass. Her power is that she can create illusions. I was kind of confused when her father died because it was more of the illusion, but then she got blamed. IDK.
Violetta Amouteru (or 'The Puppet Master'). While Violetta is the pretty typical younger sibling character, I related to her character the most. She was sweet, intelligent and actually played a major role. She's the one person Adelina truly cares about. Gave me so major Radu vibes.
Raffaele Lauren Bassette (or 'The Messanger') was interesting. I know his name is pronounced like Raphael but I really wanted to pronounce it as Raphael-ee. Raffaele is hot, let us face the truth.  He is beautiful:
"A famous poet from the Sunlands once described a beautiful face as 'one kissed by the moon and water,' an ode to our three moons and the loveliness of their light upon the ocean. He gave exactly two people this compliment, his mother and the last princess of the Feishan Empire. If he were alive to see who I am looking at now, he would add a third. The moon and the water must love this boy desperately."
While I  thought I'd found a new fave his betrayal of Adelina shook me like an earthquake. And I am bitter. Very bitter.
Teren Santoro, I hate with a passion. I don't care what his back story is, he's a terrible human and deserves nothing but pain. What on earth does Guiletta see in him?
Enzo Valenciano (or 'The Reaper'). I find Enzo's "cult name ironic considering his death. I couldn't believe it when I read that. I like Enzo, but I don't love him. I also don't ship him in Adelina. I was rolling my eyes so much during their scenes together, and I almost screamed out loud when they kissed. I would have thrown the book at the wall but I was in the car with my mom.
Dante (or The Spider). His power honestly confused me. I cannot stop picturing him as spider man, and I feel as if his power should be able to crawl up walls that are sheer, but no he can see in the dark. Okay? His death was another 'OMG shit just got real' moment.
Gemma (or 'The Star Theif'). Her name makes me think of 'The Star Thief' by Lindsay Becker (OwlCrate JR.'s BoTM for April). But her power was super cool, I can totally imagine her air surfing. Random but cool.
Michel (or 'The Architect'). His name is one of my personal favorites. I don't actually remember his power, but it sounds f**king awesome.
Personally, my favorite scenes very are the ones set in Fortunata Court. I love the expression "pleasure court" and it's essentially a westernized version of a harem. I also love the old fashioned Italian/Roman type setting but in a fantasy setting. Like the year is a real year, and the names and words are very reminiscent of ancient Rome and old fashioned Italy which I really liked. I loved how the main focus on the Fortunata Court at first was the food.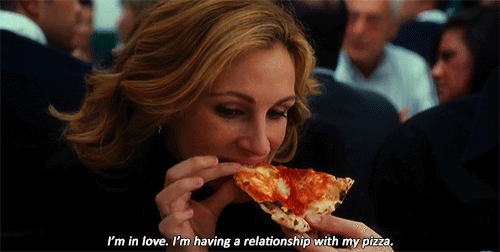 The diversity in this series is on point. Not only do we have gay/lesbian relationships, we have racial diversity, as well as having a main character with a disability. I applaud Marie for doing this. She is very talented at doing diversity in fantasy/dystopian. Overall, this was pretty solid; though I've discovered that I prefer character driven stories because I'm a sucker for relationships more than I am into action. But it's good and I'm hoping I can find a Marie Lu book that I adore.
<><><>
Rating: ★★★| 3.5 stars
Release Date: October 13th, 2015
Series: ( The Young Elites #2)
Genre:  Fantasy, Young Adult, Fiction, Romance, Dystopian, Science Fiction
Page Count: 398 pages
Dates Read: June 21st – July 5th, 2017
Once upon a time, a girl had a father, a prince, a society of friends. Then they betrayed her, and she destroyed them all.
Adelina Amouteru's heart has suffered at the hands of both family and friends, turning her down the bitter path of revenge. Now known and feared as the White Wolf, she flees Kenettra with her sister to find other Young Elites in the hopes of building her own army of allies. Her goal: to strike down the Inquisition Axis, the white-cloaked soldiers who nearly killed her.
But Adelina is no heroine. Her powers, fed only by fear and hate, have started to grow beyond her control. She does not trust her newfound Elite friends. Teren Santoro, the leader of the Inquisition, wants her dead. And her former friends, Raffaele and the Dagger Society, want to stop her thirst for vengeance. Adelina struggles to cling to the good within her. But how can someone be good when her very existence depends on darkness?
Bestselling author Marie Lu delivers another heart-pounding adventure in this exhilarating sequel to The Young Elites.
– Goodreads 2017
I was hoping it would be better, but I'm cutting it slack because I was in a post-NIR reading slump.
[SPOILERS – PROCEED WITH CAUTION]
Truth be told, this book made me want an epic name like 'The Messenger', 'The Reaper', 'The Star Theif', 'The Rainmaker', 'The Puppet Master'. Like, please.
The new Characters:
Sergio (or 'The Rainmaker') is now one of my favorite characters. I actually like him more than I like Magiano. He's sweet, sensitive, chill, and not afraid to get shit done. Where can I find my own personal Sergio? Also, his power is really cool.
Magiano, my love – I feel very ambivalent. I liked him, but I also feel as if I missed something. That doesn't mean that I don't like him. He's one of the few people who actually can pull off long hair.
  Maeve (the rest of her name is too long). I don't like Maeve, I'm gonna be honest. I don't. Can she die? Please. I don't care.
That scene with the Night King was AWESOME! Can we just appreciate that his name is 'The Night King' yes, like the GoT character?
Lastly, I felt as if Enzo coming back to life was kind of lame. Please don't kill me. Also, I'll just confess. I don't remember 98% shit that went down in this book. There you have it, sorry Maya. I am planning on picking up book three soonish.
<><><>
Rating: ★★★★ | 4.5 stars
Release Date: March 7th, 2017
Genre:  Memoir, Nonfiction, Advice, Coloring Book, Mental Health
Page Count: 128 pages
Dates Read: June 28th – July 2nd, 2017
(Because of the style of book – there will be no spoiler section)
A new book from #1 New York Times bestselling author Jenny Lawson, destined to be a classic—part therapy, part best friend, part humor, part coloring book.
When Jenny Lawson is anxious, one of the things she does is to draw. Elaborate doodles, beautiful illustrations, often with captions that she posts online. At her signings, fans show up with printouts of these drawings for Jenny to autograph. And inevitably they ask her when will she publish a whole book of them. That moment has arrived.
You Are Here is something only Jenny could create. A combination of inspiration, therapy, coloring, humor, and advice, this book is filled with Jenny's amazingly intricate illustrations, all on perforated pages that can be easily torn out, hung up, and shared. Drawing on the tenets of art therapy—which you can do while hiding in the pillow fort under your bed—You Are Here is ready to be made entirely your own.
Some of the material is dark, some are light; some is silly and profane and irreverent. Gathered together, this is life, happening right now, all around, in its messy glory, as only Jenny Lawson could show us.
– Goodreads 2017
Jenny Lawson is a unicorn among humans – and I love her so much.
Let us first appreciate the dedication:
"This book is dedicated to my chronic anxiety. You are literally always there for me, and you accidentally forced me to create this book to save myself from you. You deserve a vacation. No. Really. Go. We're fine here."
Gold. Pure Gold. As someone with anxiety, I can relate.
Also that front page:
(Crayons and Matches not included, but recommended.)
And the advice: golden.
"Weird on, you bad -ass motherfucker."
"You are not alone."
"She always felt far too afraid for adventures, but that is okay because misadventure was her true calling."
This is a secret guide. Not that this guide itself is secret. It's a guide to my secrets. And maybe yours."
"It's not loaded but it makes him feel safer and keeps the whale hunters at bay, so everyone wins."
"Get fucking inspired."
"Professionally Strange."
"Feeling Stabby."
"No matter how I try, sometimes the storm still gets inside, but I know they'll pass."
"Listen to the tiny voice inside your head. Unless it;s trying to tell you that you're worthless. Then, fuck that voice. That voice is an asshole."
"It is possible to be standing on the top of the world and also barely hanging on to the edge at the same time."
Anchor me. Ground me. Keep me safe and sound. But drag me down – she said – and I will cut you."
"Everything is bulls now and then but nothing lasts forever."
Newsflash: Apparently too much cheese can break your heart.
And the Jenny stories:
I love Shel Silverstein, but I've never understood the appeal of The Giving Tree. It's supposed to be a tale of self-sacrifice but it always struck me as a super abusive relationship. The tree gives this kid her apples and the boy eventually chops her limbs off and hollows her trunk out and then dumps her in the ocean. That's real serial killer shit, y'all.
I love Jenny Lawson so much. She is so candid, and reading her work brings a smile to my face, and lets me know that I am not alone. Thanks, Jenny. I seriously need to buy my own copy and reread this.
<><><>
Petyr Baeish Books  © 2017 by Tova Portmann-Bown